Obey Shirt-thrifted, Shorts-thrifted, Socks-Urban Outfitters
Just so you know, that is not a bandeau. That morning I decided to wear that shirt, but the one bandeau I own was dirty, and I have to wear one with this shirt. My solution? I picked a bandana off my floor and tied it around me. This may possible be one of the only times I'm glad I have a small chest. And then a few days later, my friend decided to do the same thing. It's like I made fetch happen. Holla.
Also, I'm going to be talking about 500 Days of Summer again. I discovered this video recently, and almost died. In case you saw the movie and don't understand the reference, it's from the beginning when Summer says "we've been like Sid and Nancy for months". And if you don't know who Sid and Nancy are, look them up. They're rad.
Basically, my two favorite couples in one video. *dies*
Here are some pictures of the real Sid and Nancy. I love it.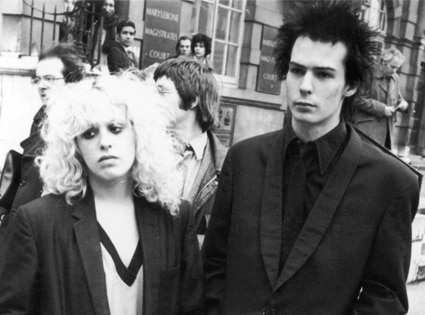 And I leave you with the song from the video: My Crazy Life by DFL